Masterman Music
Welcome to our new and returning students and families!!!

Click HERE for general information about our program.
Instrumental Music:
Kim Kelter Neu
kkelter@philasd.org
(215) 588-0742 (cell)
Vocal Music:
David Shapiro
dashapiro@philasd.org
Itinerant Music Staff:
Kyle Almeida
Violin, Viola,
Mondays & Thursday morning
kalmeida-ext@philasd.org
Gozde Tiknaz
Cello, Bass – Wednesdays
gtiknaz@philasd.org
Josh Anderson
Brass- Tuesdays
janderson@philasd.org
Jordan Graef
Woodwinds-Fridays
jgraef@philasd.org
Jason Chuong
Percussion-Thursdays
jchuong@philasd.org
MUSIC LESSONS & ENSEMBLES
Congratulations!
Dr. Shapiro has been awarded the 2022 Lindback Distinguised Teacher Award
2022-2023 All City Audition Information
Please find audition information here
Requirements:
Students must participate in their individual school's instrumental music program and be a member in good standing.
Students must maintain good academic, disciplinary, and attendance records to participate in All City ensembles.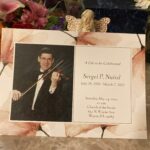 Growing up in an immigration family in Philadelphia, Mr. Nuissl began to play the violin at an early age as his mother had done.  Listening to Beethoven in high school sparked his serious interest and led him to pursue a degree in Violin Performance at the New School of Music.  Mr. Nuissl began his career as a freelance violinist with a part time job as a private school teacher but realized his greater love was for teaching and mentoring young people.  He earned a Music Education degree at Immaculata University and has served The School District of Philadelphia as an itinerant strings teacher since 2010.  Outside the classroom, Mr. Nuissl played in his church's orchestra and was an active member of bible study.  His kindness and dedication to his students is legendary, continuing throughout his illness and hospitalization.  His loss is sadly felt by his many students, colleagues, and the School District of Philadelphia Music Education family.  Sergei, we love you and will keep your tradition of excellence in music education alive.