Masterman Music
Ensembles
2021/2022 Ensemble information coming soon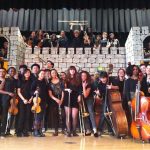 Instrumental Music:
Kim Kelter Neu
kkelter@philasd.org
(215) 588-0742 (cell)
Vocal Music:
David Shapiro
dashapiro@philasd.org
Itinerant Music Staff:
Sergei Nuissl
Violin, Viola,
Mondays & Thursday morning
snuissl@philasd.org
Gozde Tiknaz
Cello, Bass – Wednesdays
gtiknaz@philasd.org
Josh Anderson
Brass- Tuesdays
janderson@philasd.org
Jordan Graef
Woodwinds-Fridays
jgraef@philasd.org
Jason Chuong
Percussion-Thursdays
jchuong@philasd.org
2021-22 All City HIGH School:
We are excited about plans to resume in-person rehearsals for All City High School Band and Orchestra this year! Our conductors are both returning, and a performance at the Kimmel Center is scheduled for Tuesday March 22nd, 7:00 PM.
While we plan to do in-person rehearsals, auditions will be done virtually and will need to be submitted by Tuesday, November 2nd, 8:00 PM. Students wishing to audition must:
1. Fill out the online application form here: https://forms.gle/2EpCjQJQBzFML2pk9 (Deadline: Tuesday, November 2nd, 8:00 PM )
2. Submit an audition video here: https://forms.gle/FXdg4hbQ6VCdRJ4v8 (Deadline: Tuesday, November 2nd, 8:00 PM )
Students will need to record the two scales and excerpt(s) indicated on the ACHS auditions Requirement Chart below: https://docs.google.com/document/d/11nnNiybzrsjtOJaC28sO0FtQMsC26EoJBx6ZChir-ho/edit?usp=sharing
For important instructions about recording and submitting audition videos, please view this link: https://docs.google.com/document/d/1JP0WGD1BCsCA6GnM7OEOqDANUOyXAc9P4brlUS–rgI/edit?usp=sharing
If you have additional questions or any difficulty submitting, please contact Kim Neu at kkelter@philasd.org.
2021-22 All City MIDDLE School Band/String Orchestra:
• See link below for ACMS Band & String Orchestra Audition pieces, Scales and Percussion Rudiments, and recordings at various practice tempos:
http://www.krammermusic.com/index.php?option=com_content&view=article&id=25&Itemid=71
• ACMS Audition piece requirements:
Violin 1 – Sinfonia in F, measures 1 – 54 (downbeat)
Violin 2, Viola, Cello, Bass  –   Sinfonia in F, p. 1
All Woodwinds and Brass – Russian Sailors' Dance, p. 1
Percussion – Russian Sailors Dance (Snare Drum part), p. 1 & 2 (plus Percussion Rudiments)
• ACMS Audition, Rehearsal and Concert dates and locations TBA.
Click here to see the 2020/2021 All-City Festival:https://www.youtube.com/watch?v=IeZhPZ7EuB0